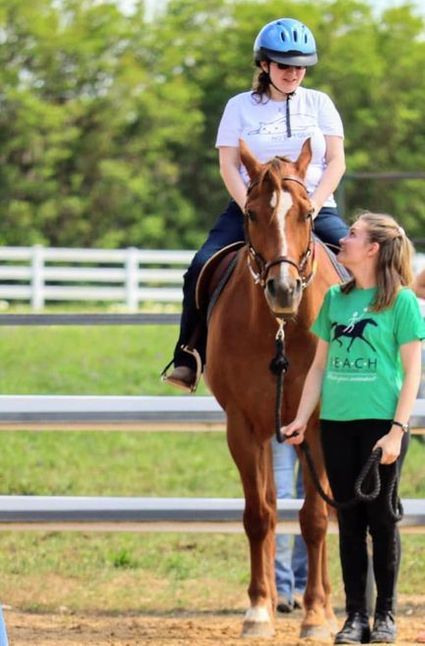 Volunteers are the backbone of REACH. It can take up to three volunteers to provide just one 30-minute ride for one of our kids.
Below you will find a list of volunteer opportunities. If you find one of interest or you just want more information, please complete the application form below.
Please note the minimum age for volunteering at the barn is 14. There is also a mandatory background check process for all volunteers that must be completed and paid for before joining the team. Visit www.castlebranch.com and use code EZ88 to place the order for yours. This can be done prior to or after orientation.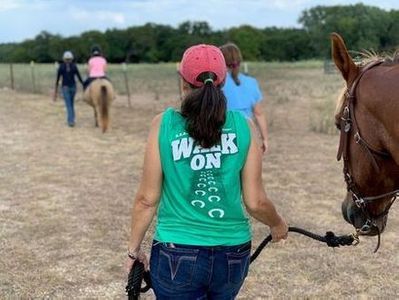 Volunteer Opportunities
Horse Leaders

For volunteers who have extensive experience with horses, Horse Leaders help start, stop and guide the horses without making the riders feel like just a passenger.

Sidewalkers

These volunteers maintain constant safety awareness and provide physical and motivational support for the rider.

Tack Team

Keep our saddles and bridles in top condition and make sure the tack room is clean and organized.

Barn Help

If you can swing a hammer, pull weeds, and clean stalls, help us keep our facility in tip-top shape from the front walk to the back forty.

Schooling

If you are an experienced, upper level rider, we need you to help keep our horses healthy and happy by riding them regularly.

Fund-raising

Help with ongoing fund-raising efforts and special events.

Office

If horses aren't your thing, we need your help in the office with volunteer recruitment, computers and technology, grant research and writing, photography and video, and office cleaning and maintenance. Whatever your skills and interests, we need your expertise!