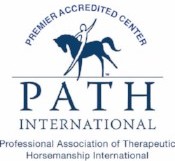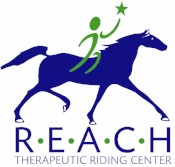 Riding Equines to Achieve Confidence and Health
Welcome to REACH Therapeutic Riding Center
REACH Therapeutic Riding Center is a place where miracles happen daily. Children with autism focus and thrive. Physically challenged riders discover independence and self-confidence. Mentally challenged riders channel behavior and increase motivation. Veterans find acceptance.
At REACH Therapeutic Riding Center we offer four programs using equine assisted therapeutic horseback riding to help those with physical, mental or emotional challenges: Therapeutic Riding, Hippotherapy, Equine Facilitated Learning, and Horses for Warriors.
Learn More!

Mark your calendar!
Friday, Jan. 6
10:00 • REACH Barn
1007 Camp Road

Join us for coffee &
refreshments and learn
about what we do at
REACH to help our
special needs neighbors
reach their potential!
And how you can help!

For more info contact
Shannon Smith
volunteer@reachtrc.org

We're already thinking about spring!
If you are interested in riding or
participating with us here at REACH,
please contact the barn at 254-848-7888
or email ride@reachtrc.org for more information.